Flex communication
The Flex level brand covers communications that are timebound, or content that is not relevant to current De La Rue products or services, but requires De La Rue branding. It can use elements of Global, or Divisional branding.
Examples of Flex communications would include collateral promoting an event, or activity that De La Rue is hosting or participating in. This could be physical or digital collateral.
Divisional content could include the creation of a brochure detailing milestones in the history of a customer and would be offered as a 'value add' item.
Global branding - digital collateral
- Information is placed on a White background, with supporting coloured blocks

- DM Sans Regular is the primary font used, with key words highlighted in DM Serif Display Italic

- Use the underlying grid to place textboxes, images boxes and graphic elements. The layout should be clean, not overly complicated and well balanced within the small space

- Images should be specifically selected based on the post content. Aim to use a single, well-selected image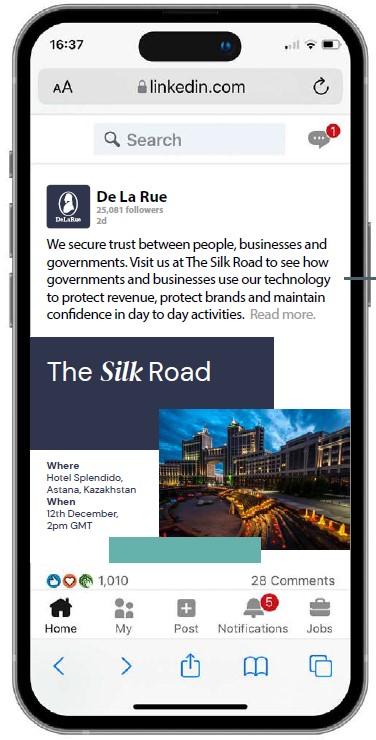 Divisional branding - print collateral
- Information is placed on a De La Rue Blue background, with supporting coloured blocks

- DM Sans Regular is the primary font used, with key words highlighted in DM Serif Display Italic

- Use the underlying grid to place textboxes, images boxes and graphic elements. The layout should be clean, not overly complicated and well balanced within the small space

- Images should be specifically selected based on the post content. Aim to use a single, well-selected image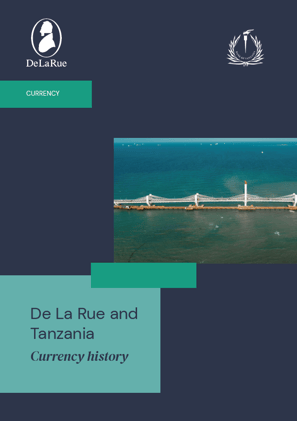 Tanzania example
---